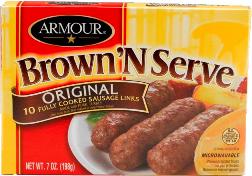 I pretty much eat one box of these things every day.
Here's what the manufacturer of these breakfast meats has to say about them:
Armour
Brown 'N Serve breakfast sausages make your breakfast sizzle. With a
perfect combination of great taste, convenience, and exceptional value,
it is no wonder Armour's Brown 'N Serve is America's favorite fully
cooked breakfast sausage. *

Great Taste —
whether you prefer links or patties, Brown 'N Serve pre-cooked
breakfast sausages come in the delicious flavors both adults and
children prefer, including: our best-selling Original — a perfect blend
of sage and seasonings — as well as Beef, Maple, Country Recipe, Honey
and Bacon Flavor. Three additional flavors, Turkey, Lite Original and
Lite Maple offer the great Brown 'N Serve taste with less calories and
fat.
Convenience — In less than five minutes in
your skillet or microwave, Brown 'N Serve lets you enjoy breakfast
sausage with less mess and cleanup, so you can focus your morning on
the important things.
Exceptional Value — Armour Brown 'N Serve is value priced to fit your budget, so you and your family can afford to enjoy sausage anytime.
God bless us all.