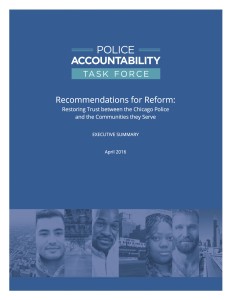 On page 112 of the report of the Chicago Police Accountability Task Force, "Recommendations for Reform: Restoring Trust between the Chicago Police and the Communities they Serve", there is a section about the publication of police data that might change the way we think about "crime data" in the #opengov and #civictech movement.
In the section on Early Intervention & Personnel Concerns, the main recommendation for this area is that the Chicago Police Department embark on the "design and implementation of a mandatory EIS that centrally collects data across a broad range of data points to capture information on the totality of officer activity". This kind of system is typically called an "Early Intervention System", or EIS.
But later in this section is a recommendation that is near and dear to my heart (disclosure: I served on the Early Intervention & Personnel Concerns Working Group for the Task Force).
Here's the nub: